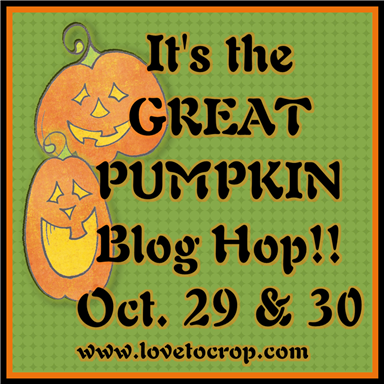 The GRAND PRIZE opportunity will be open until WEDNESDAY, November 2nd)
Hello, and WELCOME to the The
GREAT PUMPKIN
Blog Hop
Day 1
! We're so excited that you could join us for this WONDERFUL two-day hop! Please be sure to visit BOTH days for
maximum ideas, maximum FUN, and maximum chances to WIN
!! Our hostess, Amy at
www.lovetocrop.com
has some SUPER prizes for a few hoppers, so be sure to check out all of those details on her blog!
For my project I have created this card. I used bic mark-its to color it with. The pumpkin is a Cuddlebug die and embossing folder
thanks to the lovely Jennifer
from the craftycardgallery.....
Thank you again for visiting! I'm the last stop at the Pumpkin Patch, See you tomorrow!
The lineup:
1. Amy ~
http://www.lovetocrop.com/
2. Melissa ~
http://acreativejourneywithmelissa.blogspot.com/
3. Ashley ~
http://theglamoroussideofscrapping.blogspot.com
4. Anita ~
http://www.anitaandbugs.blogspot.com/
5. Nancy ~
http://blog.fancywithnancy.com/
6. Shannon ~
http://www.purplelionpaper.com/blog
7. Amber ~
http://pixiperfectcreations.blogspot.com
8. Linda ~
http://www.lindascreativity.blogspot.com/
9. Colleen ~
http://www.cbcscrapbooking.blogspot.com
10. Jennifer ~
www.craftycardgallery.blogspot.com
11. Lisa ~
http://handmadewithlove-lisa.blogspot.com
12. April ~
http://www.curlsandgrins.blogspot.com
13. Theresa ~
www.thescrapbookingqueen.com
14. Jessica ~
http://thecreativestamperspot.blogspot.com
15. Christina ~
http://cema1cema.blogspot.com
16. Brenda ~
http://createbyburffrau.blogspot.com/
17. Jamie ~
http://myamusinglife.blogspot.com/
18. Maria ~
http://www.mdcraftcorner.blogspot.com/
19. Sherry ~
http://www.patternsbysher.blogspot.com