One of my favorite techniques of all time is Heat embossing. The main reason I like it is because it raises your stamped image off the page. The next reason is because it helps you stay in the lines when coloring. The last reason, but a very important one is that you can color your images right away without your markers and your ink bleeding into each other.
You will need:
1.- A heating tool- I've had a couple of these, and don't find there to be much of a difference, so I would recommend going by price.
2.- Embossing powder- There are many colors and powder varieties. If you are just starting out, I am going to recommend you buy the clear, fine powder. Coloriser is a good brand, and its about $4.00 a jar and will last forever.
3.-
Pigment ink
pad- Its pretty important that you make sure that your ink pad says Pigment on it. It keeps wet a little while longer and holds your powder on the paper. Again, if you are just starting out, I would suggest you get a black pigment ink pad. This is just my preference but you will be able to use it for everything. I have one by Dovecraft that works great.
4.- A stamp, wood stamp or a clear stamp, but not a digi stamp. Don't worry this technique is not going to ruin your stamps. I like to get most of my stamps from Sherri Baldy they are always sweet and make me smile. You can find them here at:
My-Besties
Here is the image that I embossed last night....
Image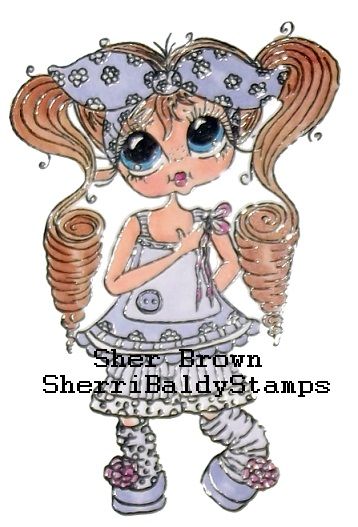 Very easy and simple
instructions
, you will get hooked right away, I hope you will give it a try.
1. Stamp your image using a pigment ink pad.
2. Quickly pour embossing powder over your image and shake it around being sure to cover the whole image.
3. Pour the excess powder back into the bottle. (I like to fold a piece of paper in half so That I don't spill, glides right back in to the bottle)
4. Use your heating gun to melt the powder onto your image. You will see it become darker when it starts to melt. Warning... (do not hold your heating gun too close to your paper or you will get brown marks)
5. Color your image if you wish.
Come give it a try, it's a lot of fun.